Safaricom Extends Its Wing To Ethiopia In A Vast Business Plan, Attracting Over 200 000 Clients Instantly
President William Ruto visited Ethiopia on Thursday, September 6, to witness the launch of Safaricom Telecommunications Ethiopia (STE)
Ethiopia gave Safaricom PLC the green light to roll out its mobile money services M-Pesa in the country
Ethiopia's Finance minister Ahmed Shide said the move was a success after the Central Bank drafted a new bill allowing foreign investors to operate in the mobile money market
The Ethiopian government has approved the M-Pesa rollout in the country in fresh bilateral ties.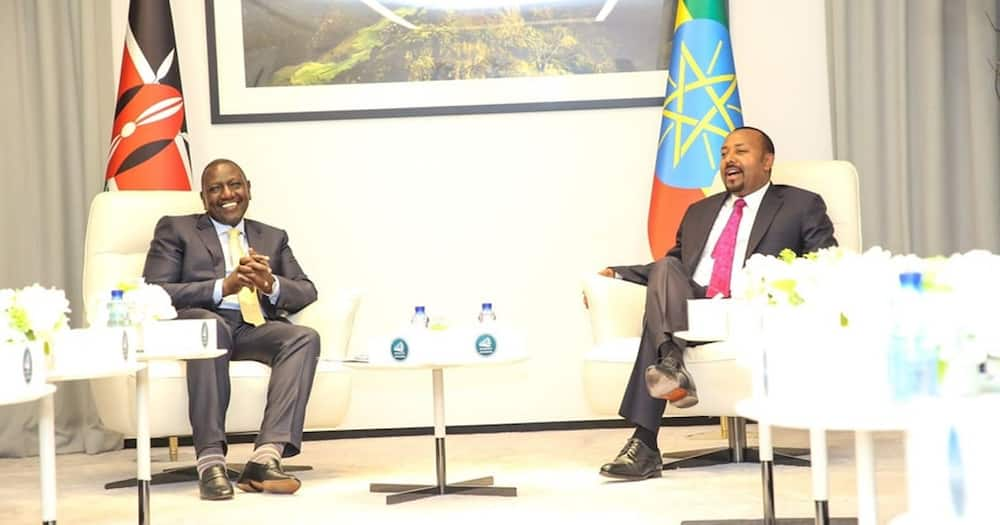 President William Ruto and Ethiopia's Prime Minister Abiy Ahmed. Photo: State House Kenya.
Source: Facebook
This came following President William Ruto's visit to the East African state to preside over Safaricom Telecommunications Ethiopia (STE) in Addis Ababa.
Ethiopia's foreign investment policy
The launch was confirmed by Ethiopia's Finance minister Ahmed Shide.
According to Business Daily, Safaricom received the licence to roll out the mobile money service after Ethiopia's Central Bank amended its foreign investment policy.
In April 2022, the country drafted a bill to pave waves for foreign companies to operate in the mobile money market.
M-Pesa customers
Safaricom's M-Pesa platform will enjoy a market of about 110 million people, adding up to its customer base.
In Kenya, the mobile money service platform boasts 30 million monthly users in Kenya out of its 51 million customers across the seven markets where it operates.
The telco is now present in over 11 cities to the East of Ethiopia and targets to cover the western and southern parts.
Safaricom Ethiopia customers
STE rolled out in Dire Dawa City, Harari Region and Haramaya City in Oromia Region.
The firm set up a pilot customer service operation in Dire Dawa City ahead of its official launch in October 2022.
The telco planned to set a base in 25 cities across Ethiopia by 2023 as it endeavours to transform lives for a digital future.
The company received a licence to operate in Ethiopia's telecommunication sector in 2021 after its bid was accepted.
Safaricom spent over KSh 156 billion to establish operations in Ethiopia, including acquiring an operation licence.
Mobile connections in the country comprised 38.5% of the total population, which stood at 116.4 million.
Fuliza loan interest
Ruto recently intervened to have Safaricom, KCB and NCBA reduce Fuliza loan interest rate.
In the latest review, the company cut daily charges on loans of up to KSh 1000 from KSh 10 to KSh 6, effective October 1.
Loans below KSh 500, on the other hand, will attract daily fees of KSh 3 down from KSh 5 in what would be sweet music to borrowers Read more: