7 Easy Steps To Joining British Military. See Qualifications & Procedure
The British Royal Navy on Monday, August 22 opened its portal for members of the Commonwealth countries interested in becoming military officers to apply.
Interested and qualified candidates, including Kenyans, should submit their application forms via the Royal Navy website on the career section.
Qualifications
Joining the Royal Navy isn't for everyone. Before sending your application to the Royal Navy you must first check your eligibility criteria, eligibility includes the age limit, and the country you come from.
The British Military is currently recruiting commonwealth citizens who are 18 years and above.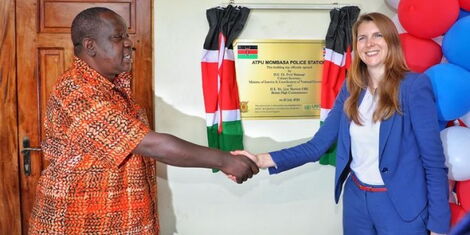 Interior CS Fred Matiang'i and UK Ambassador to Kenya Jane Marriot during the commissioning of the ATPU Coast Headquarters in Mombasa on Wednesday, July 20. 2022
UK EMBASSY, NAIROBI.
How To Apply
Kenyans applying to join British Military must hold a current up to date passport that will help them to enter the United Kingdom for the entirety of the recruitment process.
Follow the steps below to complete application.
Step 1: Choose Your Role
Once you've confirmed your eligibility, the first step is to choose the role you think is right for you.
A number of ratings are available starting from the chef, Engineer and Technician that offer a chance to develop different skills in the career you want to pursue.
Step 2: Complete Defence Aptitude Assessment
The second step is to complete the Defence Aptitude Assessment (DAA) that will help Senior Officers understand your capacity in technical and academic aspects of training.
To take the full DAA you will receive a link to access the assessment via the email address supplied on your application and then respond within 14 days.
Step 3: Interview
If you successfully pass the test, you will be invited for a formal virtual interview that normally lasts for 45 minutes.
Here you will be assessed on your suitability for a career in the Royal Navy, and specifically, the role that you have chosen.
Step 4: Complete Medical and Eye Tests
The fourth step is to complete the medical and eye tests. The medical and eye exam is quite comprehensive because life in the Royal Navy is physically demanding.
The tests must be completed by one of the Ministry Defence approved doctors.
Step 5: Royal Navy's Pre-joining Fitness Test
Before you can join the military you will be required to pass the Royal Navy's Pre-Joining Fitness Test, which involves completing a 2.4km run on a treadmill within a certain time, at a fitness center near you.
You'll need to be in the best possible shape to have the greatest chance of passing, which will also help with basic training.
Depending on the country you've applied from, some roles will also require further interviews at this point.
Once you've been given an entry date, you'll need to attend a four-day assessment, the Candidate Preparation Course (CPC).
Step 6: Perform Candidate Preparation Course (CPC)
The CPC is a comprehensive physical examination, including a number of running and swimming tests, which will confirm that you're ready for entry. This is also your chance to showcase your life in the Royal Navy.
Step 7: Security And Reference Checks
Once you've passed all the stages, you'll also need to pass a Security and Reference Check. If you have a criminal record, you may still be able to join the Royal Navy, depending on the offense and type of sentence.
However, if you've committed certain offences or served specific types of sentence, you might be permanently barred from joining the Royal Navy.
After passing the security checks, you'll be given details about your provisional place where you'll complete your Basic Training  as a British Military officer.
A British soldier giving instructions during joint training with KDF in Samburu County on October 7, 2020.
DAILY NATION