Adan Duale On What Uhuru Must Do Before Thursday Next Week.
Aden Duale, the newly-elected MP for Garissa Town, has urged President
Uhuru Kenyatta to publish the date of the first session of the 13th Parliament.
Insinuating that Uhuru may be purposely delaying the publication of the gazette, the former majority leader stated that this could lead to a constitutional crisis.
"There is currently no parliament in place. Until they are sworn in in conformity with Article 74 of the Constitution,
the newly elected Members of Parliament cannot discharge their duties," Duale said in a statement on Thursday.
Article 126 (2) of the Constitution stipulates that the date of the first
meeting of the newly elected House must be published in the Federal Register within 30 days of the election.
Since MPs-elect are sworn in and the Speaker and Deputy Speaker are elected at the first sitting, the gazettement is vital to the House's activity.
Duale observed that the new parliament is constitutionally required to have its first session within seven days.
The deadline expires on Thursday of next week.
"Even worse, the remaining seven-day window for the President to Gazette the first session of Parliament is even narrower,
considering that Parliament normally meets ONLY on Tuesdays, Wednesdays, and Thursdays," Duale said.
Duale remarked that it has been 23 days since members of Parliament (MPs) were elected,
yet there has been no announcement regarding when the House will assemble for the first time.
According to him, the 12th Parliament's term expired at midnight on August 9, 2022, due to the general election.
"Is the postponement a ruse to prevent the Legislature from ever taking flight, thereby causing a constitutional quagmire?
Duale posed a question.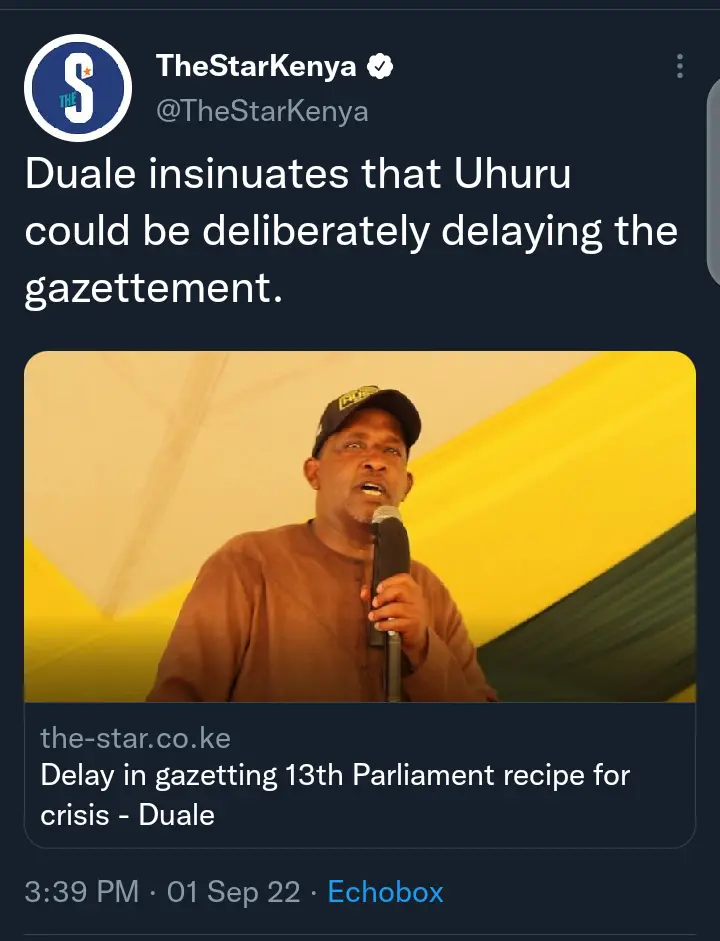 Within two weeks following the March 4, 2013 elections, the late President Mwai Kibaki announced the date of the first session of the 11th Parliament.
In 2017, Uhuru proclaimed the first session of Parliament, and members were sworn in by the end of August.
"This is the first time that September has passed without a Parliament! What then is cooking?" Duale asked.