Inspiration: Youngest PhD at 28Yrs From A Humble 235 KCPE Marks.
It is the dream of every student, who grew up in poverty, to get out of the strenuous economic environment and rise like the proverbial Phoenix to a successful career path. In the case of Purity Ngina, her path to greatness was seemingly over after she flunked in her Kenya Certificate of Primary Education (KCPE) exams, scoring 235 marks.
Undeterred, Ngina would ultimately shake the 'failure' tag off her shoulder after she became the youngest PhD holder in the country in 2018. How did the stars align for the history-maker?
Ngina's story starts in a small village in Kyeni, Nyeri County where she was born. Like many other Kenyans, she grew up in poverty and was accustomed to doing home chores like fetching water from River Sagana which was approximately three kilometres away from their house. Further, she would walk to school every morning without shoes.
Strathmore University, Nairobi
File
Narrating her experience during a past media interview, she revealed that the hardships shaped her resolve and determination in life as she developed a positive attitude towards challenging situations.
"It was beautiful to grow in the village. I think I loved being there. When I compare my life in the village and now, it was better there," she stated.
In 2002, she sat for her KCPE exams and scored 235 marks contrary to her family's expectations. Displeased with the results, her late mother instructed the last born in a family of two, to reseat the exams.
Seeking to reclaim her academic future, Ngina scored 368 marks the following year, defying the odds at a time when most people would have written themselves off.
After being admitted at Tumu Tumu Girls High School in Nyeri, Ngina's mother struggled to pay fees throughout her four-year schooling. She, however, scored a B+ (plus) in her Kenya Certificate of Secondary Education (KCSE) and joined Egerton University to pursue a Bachelor of Science Degree in Mathematics.
Ngina was driven by ambition to succeed by all means, taking all measures to study hard in order to pass her examinations. 
"For fourteen months, I could not sleep without taking something (sleeping pills), but sometimes I would say to myself, I don't want to take these pills. When I did not take the pills, I spent most of the time on my laptop, and I really worked," she stated.
Her situation, unfortunately, turned sour after her mother passed away. This, she narrated, was one of the darkest moments of her life.
"Her death made me work even harder because I wanted to prove to myself that as much as she was my greatest pillar, she is gone but still left someone who can stand on her own. It pushed me somehow to even work harder," Ngina pointed out.
Her passion and prowess in applied Mathematics led to Ngina earning a full scholarship to pursue a Masters degree in Applied Mathematics after getting a First Class Honours in 2013 in her Bachelors.
Three years later, she joined Strathmore University to pursue Biomathematics and doubled up as an assistant lecturer.
In June 2018, Ngina graduated with a PhD at the age of 28 years.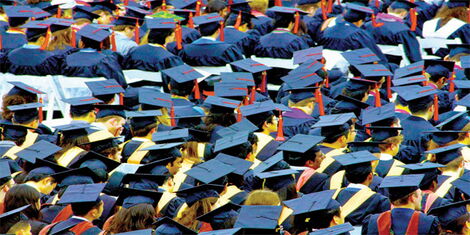 Graduands attend a graduation ceremony organised by a Kenyan University.
Twitter