TSC: Category Of Teachers To Be Prioritized In January Recruitment.
A day after the government announced plans to recruit about 30,000 teachers in January 2023, Teachers Service
Commission (TSC) has revealed the areas they will prioritize during the recruitment.
Speaking on Friday, TSC CEO Nancy Machariah said the commission is going to prioritize the recruitment of junior
secondary school teachers and have plans to train more teachers to teach grades 7,8, and 9.
She said there is already a deficit of 68,000 teachers in secondary schools and that the 30,000 who will be recruited in January will fill most of the gabs.
"We already have a deficit of 116,000 teachers so 30,000 will help us very much.
We have the highest deficit in secondary schools at 68,000 and we shall use more of these new teachers for junior secondary schools and some for primary schools," she said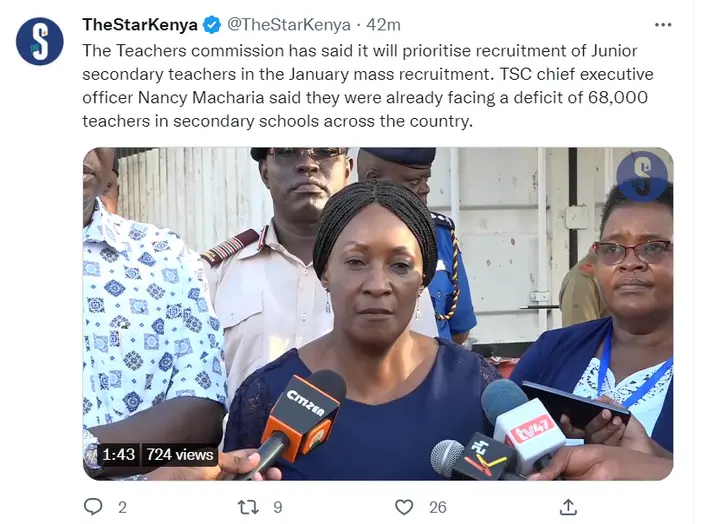 She was speaking in Mombasa after supervising the opening of exam papers for the Kenya Certificate of Secondary Education at the Nyali DCC office on Friday.
She added that they had been recruiting a total o 5,000 teachers annually but with assured recruitment of 30,000 teachers
in January, will help to reduce the deficit.