Amount Of 'Airtime Allowance ' Allocated To Ruto's PS Nominees That Got Kenyans Talking.
Details are now coming out on some of the benefits President William Ruto's Principal Secretaries who will be approved will get upon assuming office.
The Head of State recently unveiled his team of 51 PS nominees, amid criticism that the list is tribal and to a great extent favours two communities.
Those who will be approved by the parliament will get among others, up to Sh20,000 of phone credit a month and a daily subsistence allowance for local and foreign travels.
The officials will enjoy a Sh765,188 gross monthly salary, Sh55,000 more than what Members of Parliament are pocketing at the moment.
They will as well get a yearly in-patient cover of Sh10 million and an outpatient cover of Sh300,00.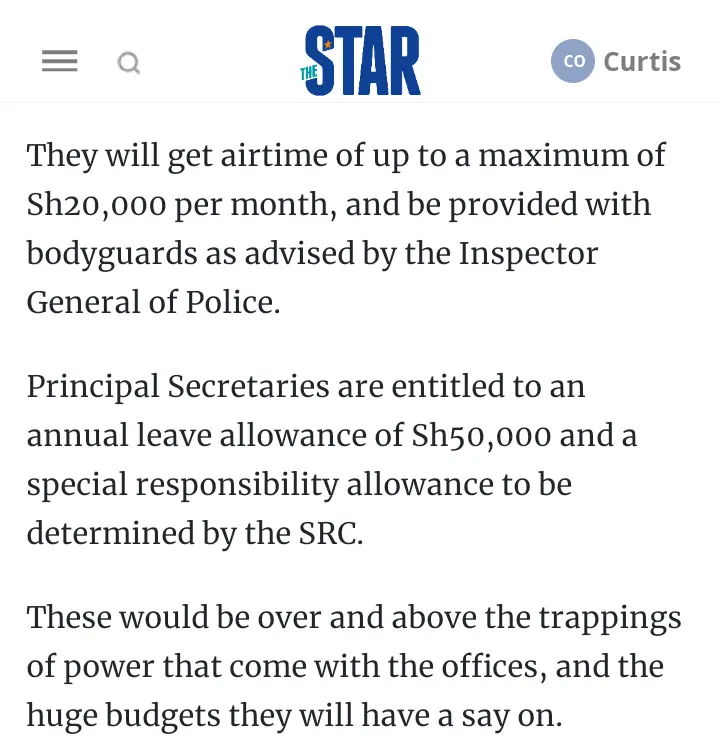 A maternity cover of up to Sh150,000, Sh75,000 for dental services, and a similar amount for optical services will also be among their benefits.
Bodyguards and an official car of not more than 3,000cc are among the other privileges, meaning that some are headed for a windfall.
This comes at a time when MPs are trying to secure more pay for themselves, and are keen on ensuring they receive a heftier pay than that of CSs.
"We have evaluated the jobs executed by MPs as well as PSs and established that they (MPs) are adequately catered to in terms of pay," SRC Chair Lyn Mengich told the Star while maintaining that MPs only deserve their current pay and nothing more.