Good News As HELB CEO Announces 100% Loan Penalty Waiver.
The Higher Education Loans Board (HELB) has announced a penalty waiver to all beneficiaries in the latest campaign to encourage repayment.
Through an official statement released on Tuesday, March 1, HELB Chief Executive Officer Charles Ringera stated that it has resolved to give 100 per cent penalty waiver to all loanees.
The waiver period will be between Tuesday, March 1 to April 30, 2022. According to Ringera, this new campaign is an appreciation extended to the beneficiaries for their efforts in repaying their loans despite the hard economic times occasioned by the ravages of the pandemic.
File Photo of Students Lining up to Submit Their HELB Details at Anniversary Towers Nairobi
File.
The move is also aimed at encouraging loanees to make lump sum repayments during the waiver period.
The HELB CEO emphasized the need for beneficiaries to repay their loans to allow other needy students to also benefit from the funds.
"It is important for all beneficiaries to honour their obligation as stipulated in the loan application terms and conditions so as to empower the dreams of another needy student," Ringera reiterated.
In 2013, HELB also announced a penalty waiver a move that saw over 10,000 beneficiaries pay their loans hitting the ksh1.3 billion mark.
A similar campaign was also launched in 2018, where 9998 loanees paid Ksh870 million.
HELB is seeking to capitalize on the latest campaign to encourage more beneficiaries to repay their loans, even as the economy slowly recovers after nearly two years in a coma.
In 2020, HELB had announced a crackdown on loan defaulters in collaboration with law enforcement authorities. The approach was meant to enhance compliance, integrity and loan access to other students.
"We are also going to partner with law our enforcement agencies to track down those holding jobs and yet are reluctant to stand up to be counted as responsible and patriotic citizens who honour their debts," the statement stated in part.
Loan defaulters are charged a fine of Ksh5,000 per month with the Board encouraging more beneficiaries to repay due to inadequate funding from the National Treasury.
It is estimated that. HELB is owned almost Ksh50 billion by its beneficiaries and almost 15,000 defaulters cannot be traced. This has crippled their operations, especially in early remittance of the funds to students.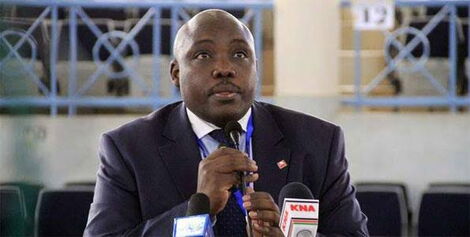 HELB Chief Executive Officer Charles Ringera addressing the media in November 2019.