Meet Kenyan Super Tailor Selling Sh350,000 suits
Suits are considered as the universal official attire. Whether you go to Asia, America, or Africa, you'll always find people donning suits, especially at official functions.
In Kenya, there are different types of suits ranging from as low as Sh1,000 to hundreds of thousands.
In this article, we outline the story of Brian Kisimba – a tailor who makes high-end suits selling from Sh350,000 a suit.
Kisimba established his company dubbed Bespoke Suits in 2016. His shop is located in the affluent Lavington area in Nairobi.
He is a respected tailor, having trained in the United Kingdom (UK), under the under the guidance of Andrew Ramroop; renowned creative director and owner of Maurice Sedwell bespoke tailors.
Speaking in a past interview, Kisimba divulged that his target market is made up of mature and wealthy men aged between 30 and 80.
Explaining why he focused on suits only and not any other type of dressing, Kisimba said, "We don't do shirts, ties, shoes, belts, or watches.
We're leaving a lot of money on the table because we choose to focus on one thing that we know we can deliver the most value."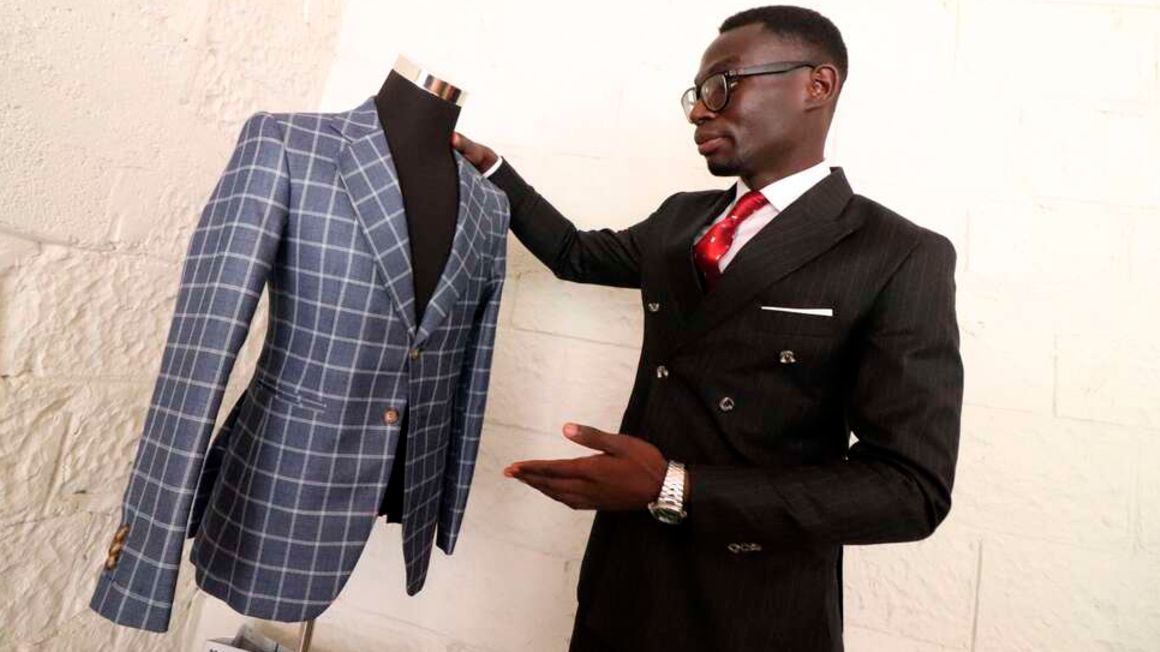 Brian Kisimba showcasing his work. [Photo: Courtesy]
Reason for his high-cost
According to Kisimba, his suits utilise high quality material, thus making them more of an investment as opposed to an outfit for an event to two.
Additionally, he disclosed that his suits go through a vigorous and detailed process where a total of four tailors handle different aspects of the tailoring process.
The fabric and other fittings used in making the suits are also high-end and very costly, thus pushing the total cost further upwards.
"We don't jump into the fabrics. We sit and talk because it's an investment…If we were in the watch-making space,
we're not the Rolex, we're not Seiko, we're not Casio, we're Vacheron Constantin, we're the Audemars Piguet.
We're the watch brands you never hear about," he told Business Daily. 
Suit-making Process
Like any other tailor made suit, the process starts with a conversation between the tailor and the client, after which you are subjected to fittings.
Unlike most tailors who'll fit you once, Kisimba does several fittings to ensure the final product is a perfect fit for your body.
According to him, it takes roughly two months (eight weeks) to make one suit as their suits are very detailed.
He further notes that a suit can take more than eight weeks depending on the body shape of the client.
Challenges
As at September 2021, Kisimba had 13 returning clients. He says getting clients is one of his biggest challenges as most people are not open to spending hundreds of thousands on suits.
The other major challenge for him is high taxation which complicates the entire business process.