"We Want You To Do This…." Teachers Place A Demand On CS Magoha On Re-Opening.
The Kenya Union of Post Primary Education Teachers (KUPPET) has raised concerns over the latest directive by Education Cabinet Secretary, George Magoha moving the school re-opening date to August 18.
A statement issued by KUPPET Secretary General, Akelo Misori, noted that the situation created confusion and anxiety among parents, teachers and students who were uncertain about the entire calendar year.
He added that the situation would also compound the woes of parents and students who have to contend with a condensed academic calendar.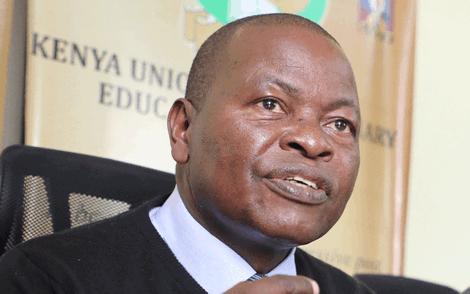 Kuppet Secretary General Akelo Misori
FILE.
Misori demanded CS Magoha to release a full revised academic calendar, detailing the term dates. He noted that this would relieve the pressure and strain caused by the uncertainty.
"This is a sad state of affairs, given the immense financial and logistical factors involved in the re-opening of schools.
To remedy the situation, the Minister must issue a statement on the comprehensive term dates for schools for the rest of the year," he stated.
Misori noted that the Ministry of Education may be forced to adjust the recently announced date, as the countrywide vote tallying process is still ongoing by the IEBC.
"The decision was universally condemned by all education stakeholders, none of which was consulted in its making.
Given the unpredictability of the changes, there is uncertainty whether the Minister will adhere to the new date since the election programme is still unfolding," he added.
Media reports indicated that Magoha's announcement forced students to adjust their travel dates after booking on various PSVs.
Magoha had initially announced Monday, August 15, as the school reopening date but recently shifted the date to Thursday, August 18.
"Following the conduct of our National Elections on Tuesday, August 9, 2022, the process of tallying ballots is still ongoing.
"Therefore, following further consultations, I hereby convey the Government's decision on the suspension of the re-opening of ALL Basic Education institutions with effect from Monday, August 15, 2022, until Thursday, August 18, 2022," read part of the statement from the Ministry.
This year's academic calendar was to end in December with National exams, KCPE and KCSE scheduled for later this year.
The ministry of education was hoping to normalize the calendar in January 2023, after a ten-month disruption caused by the pandemic.