2023 New Fee Structure For All National, Extra County, County & Sub County School.
The Kenyan government's Ministry of Education has published the criteria for secondary school tuition for 2023.
Both boarding and day schools in Kenya will be impacted by this new system of tuition payments.
Additionally, all Sub County, County, Extra County, and National Schools have received the fee guidelines.
Notably, the Kenyan government will continue to provide free daytime education for students attending Day schools notwithstanding these changes.
These schools will exclusively charge meal costs to students.
The Ministry of Education reports that students enrolled in public schools receive a government subsidy
(capitation) of KES 22,244.00 per year, as indicated below (in table 1).
Free Day Secondary School fees Structure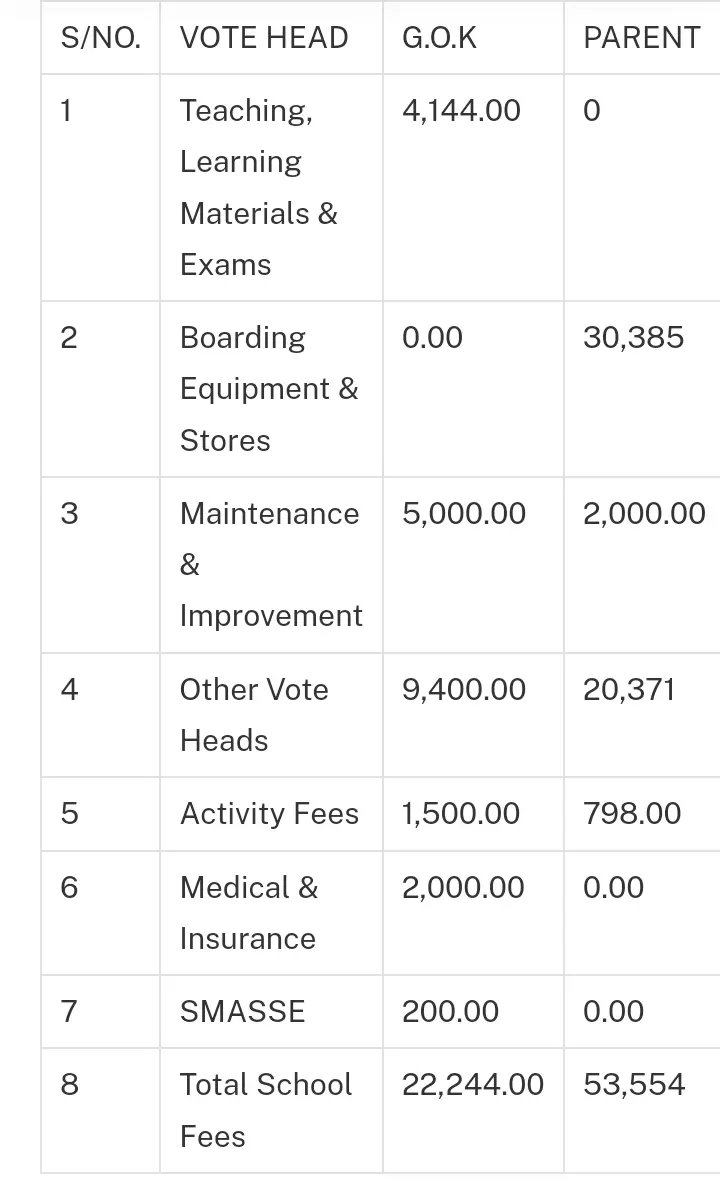 Take note of the following other vote heads: local transportation, administration, electricity, and personnel compensation.
Capitation payments to schools will be made in the proportion 50:30:20.
Fees for Boarding Schools
Each student in a boarding school receives funding from the government that is equivalent to capitation for each student in a day school.
Parents are required to pay the boarding fees that are appropriate to various categories of schools and locations in order to cover the expense of boarding.
Details on the pricing structure are provided in tables 3, 4, and 5 below.
2023 Boarding school's fees structure- category A
Schools listed as Category A schools include:
ONLY in Nairobi, Mombasa, Nakuru, Kisumu, Nyeri, Thika, and Eldoret are all National schools and Extra County Schools that are located in the listed towns.
2023 Boarding schools fees structure- category B
Take note of the additional vote heads for local transportation and administration, electricity, and salary.
Other boarding schools, such as extra county schools outside of the towns of Nairobi, Mombasa, Nakuru, Kisumu, Nyeri, Thika, and Eldoret, are classed as Category B* schools.
2023 Fees Structure for Special Needs Schools
Keep in mind the Other vote headings Local transportation and administration. Electricity and employee compensation.
Schools that cater to students with disabilities, such as visual, physical, hearing, and mental impairments, are those that are designated as special needs schools.
The government increased capitation and dispersed it according to the fee system at KES 53,807.00.
The above pricing schedule includes a GOK subsidy of KES 19,053.00 per student for boarding supplies and stores
as well as a top-up grant of KES 12,510.00 per learner to cover any necessary staffing increases and assistive technology.
It is advised that all Schools follow the regulations' fee requirements.