Angry Chebukati Removes All IEBC Commissioners From A WhatsApp Group. Kenyans React
Kenyans have reacted after it has been reported that the chairman of the Independent Electoral and Boundaries
Commission Wafula Chebukati has allegedly removed all his commissioners from the commission's whatsapp group.
This comes at a time when Chebukati fell out with the three commissioners and his vice-chairperson Juliana Cherera.
The four claimed that they didn't take ownership of the presidential results that were declared by the chairman.
On many occasions, Chebukati made it clear that results which were announced at polling stations were final and no one would change it hence assuring Kenyans that they would be tampered with.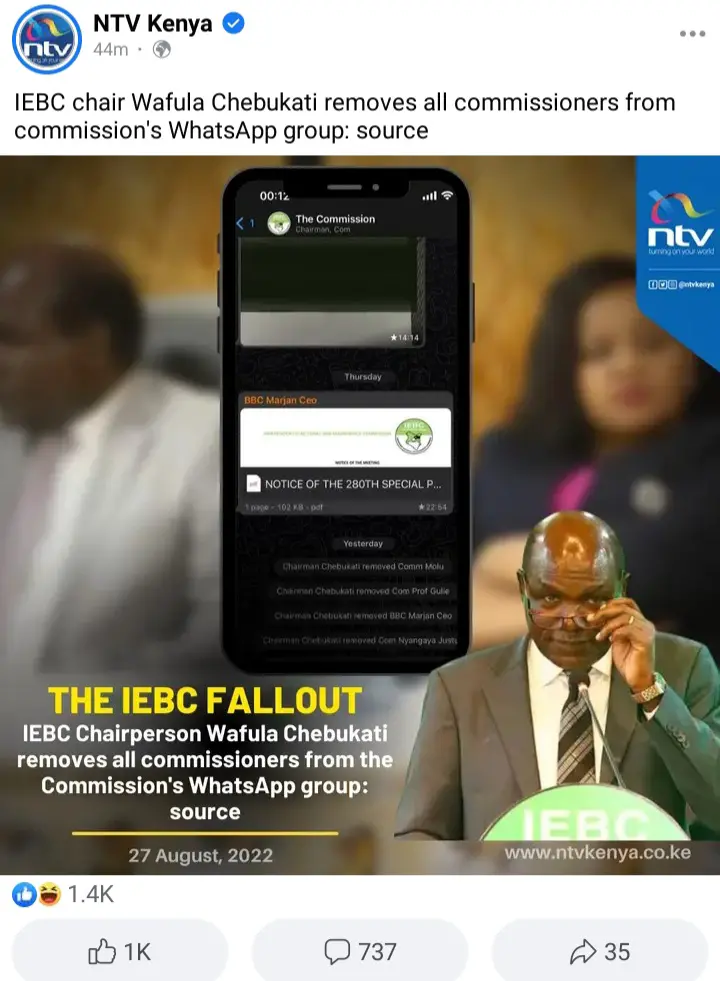 Below are some of the reactions from Kenyans.
"Waende wakiendanga. There is no constitutional requirement for IEBC to have a whatsapp group!! Next," reacted Maggie Marikah Kwanena.
"The best commissioner we've in Kenya," reacted K Cate Mwenda's.
"The group is closed until the next elections," reacted Luteni Lawi.
"How can commissioners been removed from WhatsApp group serve as an evident for an election petition at the SUPREME COURT? This ECDE commissioners are a big letdown to Kenyans!," reacted Idrisharun Justman.