Boda Boda Operators Hit Back At The Government In A Scathing Demonstration.
It's not business as usual as Boda Boda operators engage in riots in what looks as a protest against the president's issued orders on the sector.
A section of Thika Superhighway was on Thursday, March 10, shut after boda boda operators mounted violent protests over the ongoing nationwide crackdown.
Motorists had to deal with delays on Thursday afternoon after the boda boda operators lit bonfires along the busy road. The inbound lane was completely closed down by heavy stones.
The operators were protesting against how the police handled the crackdown which they termed harassment. The riders accused officers of not being reasonable during the crackdown.
Police officers had to engage the boda boda operators in running battles along the road but no one was arrested. They refused to comply with orders and demanded to speak to senior cops to air their grievances.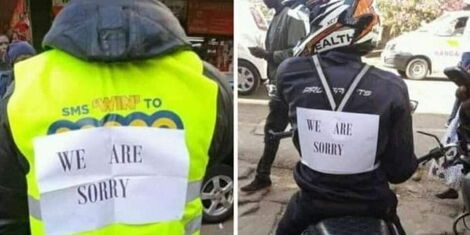 Viral Boda Boda Apology Image. Undated
File
However, no one gave them an audience and they were left disrupting the traffic flow as well as blocking motorists from accessing the busy highway.
After hours of engaging in running battles and blocking the highway, the operators left and the police were left with the heavy task of clearing the busy road.
Videos shared on social media showed police officers lifting rocks and sweeping away burnt tires that were left by the irate protesters.
Politicians have backed riders on the harassment by police officers. ODM leader Raila Odinga was speaking in Meru today when he urged police to stop victimizing all operators due to the misconduct of a few bad apples.
"The other day a woman who was driving in Nairobi and involved in an accident was attacked by boda boda people there and such acts must be dealt with because the person who attacked her was wrong.
"But we shouldn't blame all boda boda operators. Boda boda riders do a good job helping people and they are part of our society. I want them to be helped in their business and when someone breaks the law that is the person who should be arrested. They should not be arresting all the people working in that industry," Odinga stated.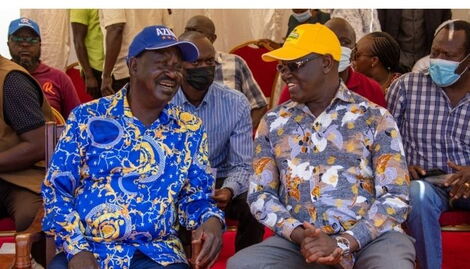 Former Prime Minister Raila Odinga (left) and Meru Governor Kiraitu Murungi at Maua Stadium on Thursday, March 10, 2022.
File
Elsewhere, the Council of Governors proposed that leaders of the troubled sector should be taken to Rwanda for benchmarking.
The Council's chairman Martin Wambora stated that it was necessary for the bodaboda leaders to learn the order in Kigali, and emulate what is working in the East African country so that they can implement the same here.