"I Will Only Take Up A Job In Your Government On Condition…" Miguna Tells Ruto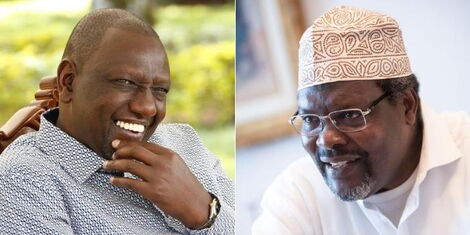 Lawyer Miguna Miguna on Friday, October 21, stated that he was open to taking up a role in government if offered any by President William Ruto.
Miguna clarified that the job offer should be legally bound by the Constitution, as for him, the rule of law is cardinal.

He thus ruled out accepting the Chief Administrative Secretary (CAS) position due to legal implications and ongoing court cases challenging its legality.
Further, Miguna insisted that the job offer must be made through the right channels allowing him to meditate on whether to accept or decline.
Outspoken lawyer Miguna Miguna speaks to the media after landing at the Jomo Kenyatta International Airport (JKIA) on Thursday, October 20, 2022.
Twitter
"It depends on which government appointment. It would have to be proposed, then I will say if I will take it or not," he stated during an interview on NTV.
"There are so many things I will not take; for example, I will not take the illegal CAS position," he added.
Defending his change of stance from being Ruto's harsh critic to willing to work with him, Miguna stated that the head of state had initiated reforms in different sectors of the country.
He hailed Ruto for disbanding the Special Service Unit (SSU) attached to the office of the Directorate of Criminal Investigation (DCI), reiterating that the decision was key to addressing cases of extra-judicial killings and forced disappearances.
"He has dismantled the DCI assassination squad, which is very fundamental. When you see a president do that, it is commendable," Miguna stated.
He further congratulated Ruto for initiating a series of political transformations to put the country into an economic development trajectory.
"Ruto galvanised the simple citizens of this country on a programme of transformation when that was not his agenda throughout his political life. This was fresh. You could only oppose it if you're dishonest
"Look at his thirty years of being in
power, he has honoured my rights, and he did not betray him (while referring to the lifting of the red alert)," Miguna stated in defence of Ruto's regime.
Dethroning Raila
The National Resistance Movement (NRM) leader added that he was keen on taking over from the former Prime Minister Raila Odinga as the Luo kingpin.
Miguna did not mince his words as he stated his ambition to dethrone Raila and liberate the Nyanza region from an alleged Odinga family's superiority.
Miguna Miguna attends the Mashujaa Day celebrations party at State House Nairobi on Thursday, October 20, 2022.
William Ruto
He vowed to empower the region to regain its academic status and empower individuals to champion human rights and defend the Constitution.
"It is not just the intellectual values, the integrity aspect of it; the entire economic, social-cultural morals of Luo – Nyanza have been destroyed in pursuit of an individual's chase for power," Miguna stated while throwing tantrums at Raila.