It Is Possible To Avoid The Ksh. 5000 Monthly HELB Penalty. This Is How..
For many years, many graduates have defaulted on paying their Higher Education Loans Board (HELB) loans given the high rate of unemployment in the country.
The delays in repayments is also a major burden to the unemployed youths as they accumulate monthly penalties of Ksh5,000.
During an interview on Spice FM on Friday, March 11, HELB Chief Executive Officer, Charles Ringera, revealed ways through which beneficiaries can avoid the monthly penalty charged to defaulters once their loans mature.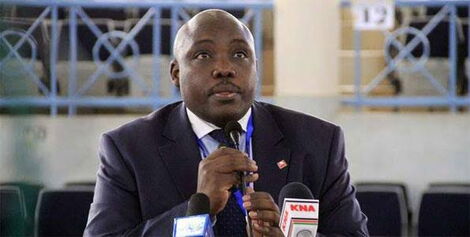 HELB Chief Executive Officer Charles Ringera addressing the media in November 2019.
The Standard
He stated that many beneficiaries were accumulating a lot of penalties running to hundreds of thousands because they lack information on how to avoid being penalised.
Ringera disclosed that graduates can avoid the penalty by paying any amount to the board once their loan due date reaches. He explained that the system would automatically stop crediting the penalties to the accounts once the payment reflects.
"If your account is due and you pay something small like the airtime you use in a day, the system usually gets confused and it does not charge you the penalty. That is the literacy we want to teach our customers," the HELB boss stated.
He also disclosed that the body waive the penalties for defaulters who become consistent in paying their dues.
"The truth is that nobody pays that Ksh5,000. It is usually debited to your account and in the process that you start paying, we usually waive it by 100 per cent," he stated.
Alternatively, he advised the loanees to visit the HELB offices and detail their loan repayment plan. The CEO stated that the government agency always listens to the pleas of its customers.
During the interview, the CEO noted that majority of the graduates were defaulting on their loans, further disclosing that graduates from 2013 to 2018 owed the state close to Ksh3 billion.
Such delays in loan repayments have led to the board stretching its budget.
On March 1, HELB announced a 100 per cent penalty waiver for all loanees given the financial situation the board was facing.
Consequently, the board also opened a portal on their website to waiver applications. The waiver is awarded depending on the amount they owed the board.
Through a similar initiative in 2013, HELB collected over Ksh1.3 billion as Kenyans moved to clear their debts.

Specimen of a HELB Clearance certificate.

Twitter