Just In: PSC Advertises Jobs. See Qualifications & Application Procedures
Kenyans now have an opportunity to secure jobs after the Public Service Commission (PSC) announced 105
vacant slots in the Ministry of Industrialisation, Trade and Enterprise Development.
In a notice issued on Wednesday, August 24, PSC is seeking to hire qualified candidates from across the board with
jobs ranging from trade development officers, and industrial development officers, to lecturers and instructors.
The commission is recruiting 15 trade development officer II, 15 Industrial Development I, 35 Industrial Development Officer II, 25 lecturers at the Kenya Industrial Training Institute located in Nakuru and 15 instructors at the same institution.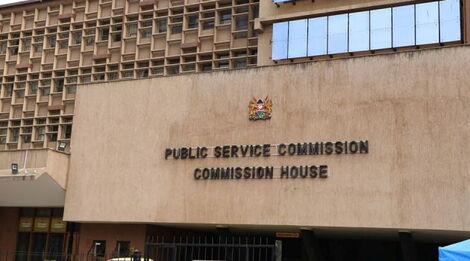 Public Service Commission offices (Undated)
CAPITAL GROUP
All qualified and interested candidates are required to submit their applications by Tuesday, September 13.
Applications should be made online through the commission's website www (dot) publicservice (dot) go (dot) ke.
On the jobs tab, click on Apply for jobs online section.
The site will redirect you to the PSC jobs portal.
Candidates are advised to read through the quick guiding steps. New users should create accounts while regular users can log in to their existing accounts and make the applications.
To register, a user is expected to provide an ID or a Passport number, surname, current email address, and a password to access the system.
To apply for the advertised jobs, log into the system using the ID/Passport Number and the password created above.
While in the portal, the users must fill in their personal details, professional and academic qualifications, experience, membership to professional bodies, referees and any other relevant information.
Once done, click on apply for jobs/internships tab.
On the link advertising vacancies for Ministry for Industrialisation, Trade and Enterprise Development. click apply.
All applicants are advised to ensure that each piece of information is filled since incomplete applications would not be considered.
The Online Recruitment and Selection system also allows applicants to amend their application at any time before the closure date.