Students Celebrate Resignation of Kenyatta University VC Prof Paul Wainaina
The resignation of Kenyatta University VC Prof Paul Wainaina has sparked mixed reactions among Kenyatta University comrades.
The professor resigned a few days after President Uhuru Kenyatta called him out for not being willing to donate a section of the university's land to the World Health Organization (WHO).
President Uhuru went further and even threatened to retire with the VC in the next three weeks when his term in office as the President expires.
A few hours after Prof Wainaina resigned, a section of KU comrades took to their various social media pages and penned down their mixed reactions, with a majority of them celebrating the move.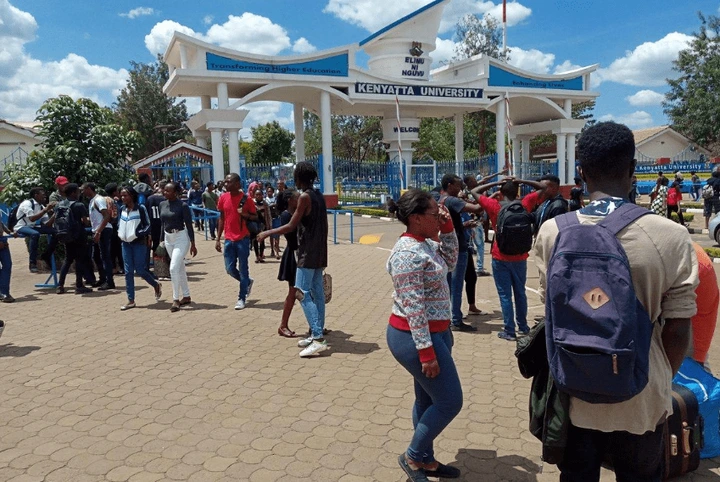 According to them, Professor Wainaina had allegedly ruined the university. Some accused the VC of allegedly hating and suspending students based on where they came from.
Others said he reduced the university status to that of a glorified village school.
More so, others expressed how much their missed his predecessor, Prof Olive Mugenda, who led the university for at least two terms.
See reactions as captured from KU Comrades Forum, a Facebook page.
Morara Kebaso: Much as most of us don't like Uhuru Kenyatta, the resignation of KU VC Wainaina is a good thing for KU fraternity. In his tenure, the giant institution has fallen on its knees.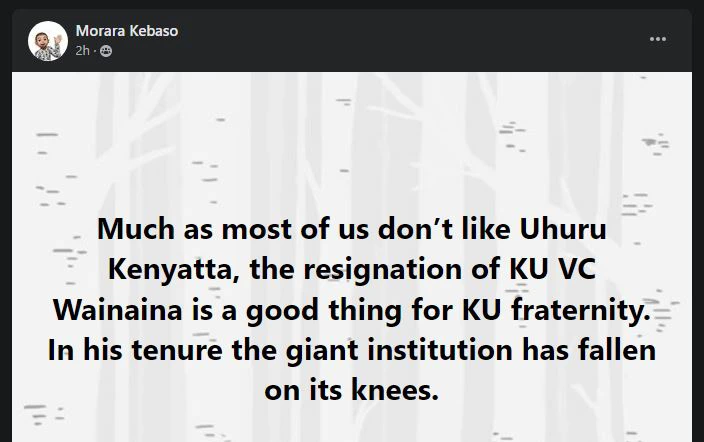 Roy Sirkal: End of a tribal era. You won't know how tribal the outgoing VC was until your name begins with "O"
Eric Mogendi: Huyo mtu aende kabisa
Joseph Kasavubu Snr: Ayika must be happy wherever he is
Mengich Ezra: When our beloved olive Mugenda left, we only remained with a marketplace, not an institution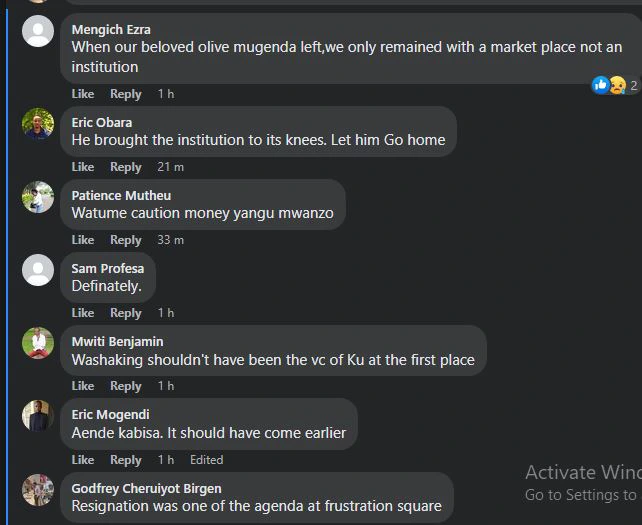 Eric Obara: He brought the institution to its knees. Let him Go home.
Atunga Hazard: he reduced Ku into a glorified village primary school