US Journalist Emotionally Asks Ruto Hard-Hitting Questions On Leadership & Run Away Corruption In Kenya In A Live TV Interview.
Kenyan-born US-based journalist, Esther Githui of the Voice of America (VOA), became emotional during an interview with Deputy President William Ruto who is on a four-day tour of the States.
Githui, who had a career stint at the government-owned Kenya Broadcasting Corporation (KBC), said that the issues of corruption and poor governance were very close to her heart and made her emotional.
In the hard-hitting interview, the Deputy President was at pains to explain why the ruling Jubilee government – which they formed with President Uhuru Kenyatta – had failed to address the blatant graft and abuse of office and power by its senior employees.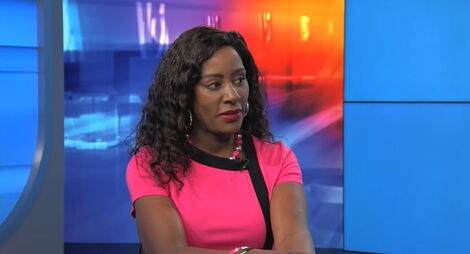 Kenyan-born US-based journalist, Esther Githui with Deputy President William Ruto during an interview on Friday March 4, 2022
VOA
"Because you lost direction, Kenyans lost direction. This is the bigger binding issue. Look, I come from there, you know what it is here in America, people are gonna confront you and ask you the same kinds of questions.
The economy of Kenya has gone so bad that what we are reading every day is killings, children being killed, people have lost their minds… What is wrong with the Kenyan fabric? It is not good at all. How are you going to address that?" Posed the journalist.
In his response, the Deputy President acknowledged that the situation in the country is bad when it comes to hunger, corruption, unemployment, and health, but noted that it was not out of control.
"It is true we have an issue, but it is not as bad as you make it look. It is not out of control," started Ruto.
"When it comes to issue of the government failing to feed its population, it is because we dropped the ball along the way. The fact that we removed the agricultural subsidy as the government, the whole farming chain was affected."
He went on to state that his administration, should he ascend to power after the August 9 elections, will ensure that the agricultural and farm inputs are subsidized and modern farming methods adopted.
Pressed to explain his Hustler Movement and what it stands for and whether it was dividing people along social lines, the DP termed the narrative as misleading and crafted by people hellbent to create class wars.
"The Hustler Movement is a movement that is people-driven. It is a movement that is driven by the Bottom-Up  economic model. A model that will ensure that money trickles down to the pockets of the real worker who is the farmer, the jua kali artisan, the masons, and many others," he added.
To address the corruption pandemic in the country, Ruto stated that his government will adopt a zero-tolerance approach to graft.
"Corruption is all over our nation. Our proposal to deal with corruption is not pointing fingers or a game of accusations," he added.
"We will start by operationalising the Judiciary Fund. This will ensure that the cases taken before the court are not delayed. We will give financial independence to the Judiciary so that it is able to expedite the cases."
Ruto has appeared in a series of interviews in US media during his tour. He has also held a number of meetings with leaders of the free world.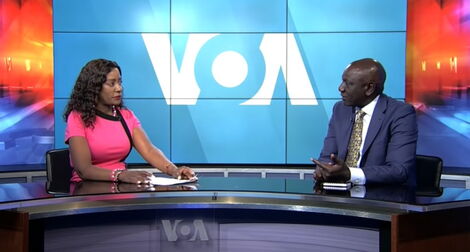 Kenyan-born US-based journalist, Esther Githui with Deputy President William Ruto during an interview on Friday, March 4, 2022
VOA