IEBC Chairman, Mr. Chebukati Reacts To The Possibility Of A Re-Run.
With the lawsuit against William Ruto's victory now prominent in the Supreme Court, the possibility of an overdraft
cannot be decided if the Court finds the election has been broken. This means that Chebukati and his team will have to prepare for new presidential elections.
This is one of the possible outcomes of the petition, IEBC President Wafula Chebukati now says the country is not
and is not prepared for a new race.According to Chebukati, the committee's budget is already stretched
and it will not have the funds to hold a new presidential election if it were to be ruled by the Supreme Court.
"We don't have the budget to play again. We do not expect a recovery. We look forward to the general election in August. If there are cases, we will address them as they arise," Chebukati noted.
Chebukati added that they only received the budget for this year's general election and that despite the deficit,
they managed to hold a reliable election as Kenyans expect.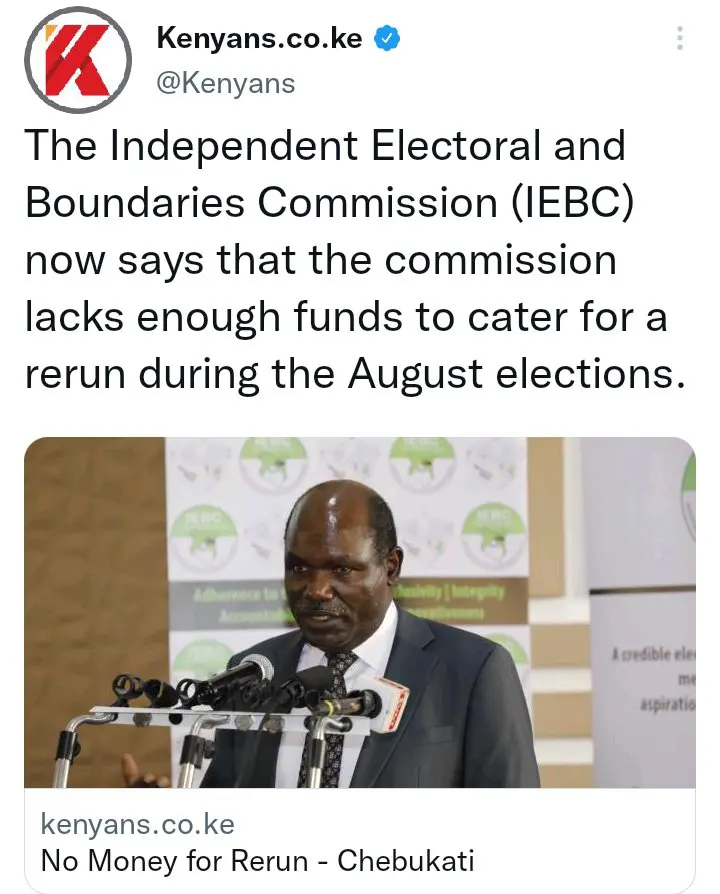 "As a committee, we only got this year's election budget and we did what we could with it, even though we ran a deficit.
However, we have two civic educators in each neighborhood," added Chebukati.