Kenyan workers Earning Ksh.50,000 Will Now Face Ksh.10,500 Deductions To NHIF & NSSF
Bad news to Kenyans' workers after the newly formed government finalized on how salaries will be cut to raise more money to the state.
President William Ruto's push to raise more revenue and cut borrowing is risking to reduce further the take-home pay of formal sector workers.
Workers will be forced get a monthly pension contribution of a maximum of 6 per cent of their salaries to the National Social Security Fund (NSSF).
The NHIF expenditure has also been increased which means workers who benefit from the program will have to pay extra money.
According to data tabulated by The Star, a worker earning Ksh 50,000 will be be deducted a total of Ksh 10,503 every month.
Another category will be cut ksh 179,000. For those whose gross salaries are Ksh 500,000.
Below is a full data on how workers will be deducted.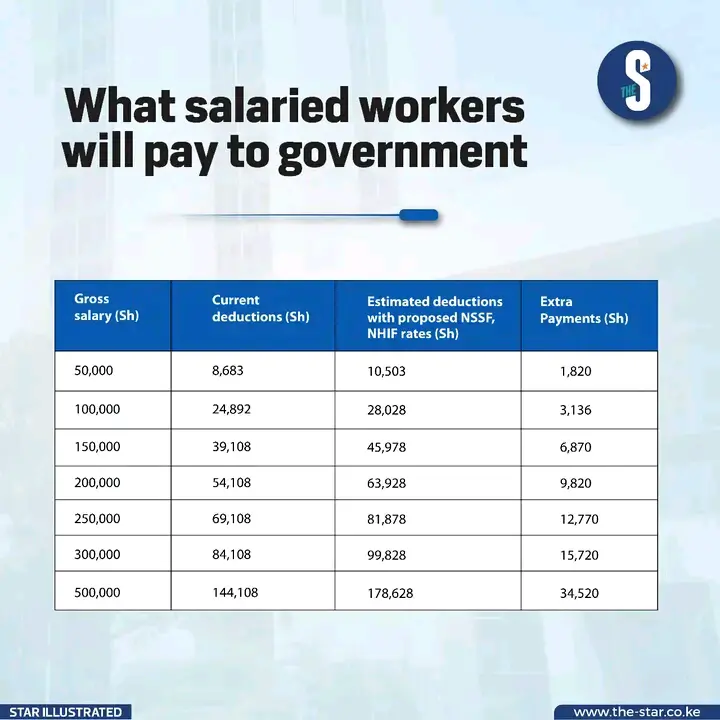 This is means workers who have been contributing Ksh 200 every month to NSSF will be forced to dip down into their pockets to facilitate Ruto's plan.
Ruto's directives comes at a time where many Kenyans are burdened by the high cost of 'unga' and fuel.
Ruto admitted that it will take a bit longer for the cost of unga to come down. He said the production sector in the country had been neglected for four years and it will take him up to one year to remedy the situation.